This blog has been stewing in my brain off and on for the last year or so. Not only does Canadian Vocational Training Center have its own Facebook page, but as an author, I have one too. And whenever I (or the school) run ads, I see at least one comment or even message that is mad as can be that they saw my/our ads. (I have had some that were swearing at me for having an ad that they didn't want to see. Like yikes!)
So we can consider this a PSA (Public Service Announcement): How to get rid of Facebook ads that you don't want to see on your feed.
Here's What Not To Do
Before we get into what you can do to remove the ads you don't like, let's look at what not to do.
The main thing is to not engage with the ad in any way. Don't comment on it, click on, send private messages to it, or react (anger emoji…) to it. Why? Well, for small or independent businesses, leaving angry comments, messages, and emojis is rather hurtful, but from your point of view, interacting with an ad has the opposite effect of what you probably intended.
A common angry comment is 'I don't want to see this ad, Facebook' (usually with more swearing). But Facebook doesn't care about what the comment is (unless it's reported), the algorithms that control it only care about the fact that you interacted with the ad at all. By interacting with it, you have basically told Facebook that you want more like that particular ad and so you get more ads. Reacting is the same deal and leaving nasty messages just kicks in any automated messaging and of course, makes people feel hurt, confused, or annoyed in turn.
So the next time you see an ad, don't comment, react, share or send messages through it.
Ways to Get Rid of Ads on Facebook
One of the first things to do is to get a good adblocker for your computer, phone and/or tablet. There are plenty of free ones out there, but some top rated ones:
AdBlock Plus (used for a variety of browsers): Now considered to be one of the top adblockers around, it's free, easy to install and set up, has different filters, and can even disable "non-intrusive advertising".
AdBlock (not related to AdBlock Plus), is also very popular. It has plenty of filters, create blocklists, and is widely used on Chrome, Firefox, Safari and Edge.
uBlock Origin (I use this one): uBlock Origin is only used for Chrome or Firefox, but it lets you build your own custom filters and it's extremely simple and efficient.
AdLock is a mobile adblocker for Android that lets you run your apps and websites without obnoxious ads, pop-ups, banners, and auto-play videos.
A good adblocker will block the ads that pop up on the sidebars of your facebook page, but they sadly won't do anything to get rid of ads in your feed. So what do you do next?
The easiest way to get rid of these ads is to press the … on the corner of the ad and then click Hide Ad. Facebook may ask you why you want to hide the ad, but you can just close that window and the ad will be hidden.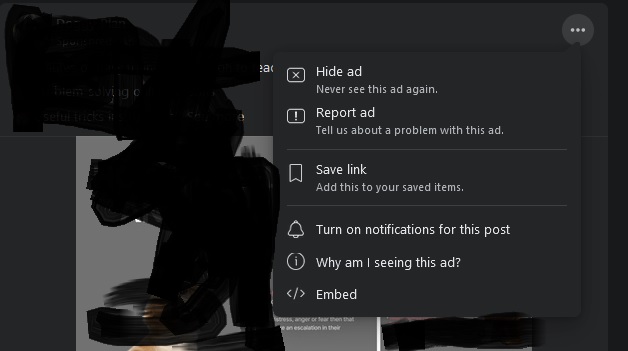 Facebook ads can be irritating, but engaging with them is the last thing you want to do because then you're training Facebook to keep showing you ads like the one you yelled at (And possibly hurting someone's feelings) Instead, install a good adblocker and use the Hide ads option to get rid of ads you don't want to see.
And that is your PSA for November!