Announced today (September 8, 2022), Queen Elizabeth II, the longest reigning monarch in British history, passed away at the age of 96. She died peacefully at Balmoral after being under medical watch for the past twelve hours, surrounded by several members of her family, including her son Charles who is now next in line for the throne.
Queen Elizabeth II took the British throne almost by accident. Neither she nor her parents were ever directly in line for the throne, but due to an abdication (her uncle Edward VIII abdicated to marry Wallis Simpson) and the death of her father, a twenty-five-year-old Elizabeth II took the throne in 1952 and was officially coronated in 1953. It was a massively televised event at her urging since she believed that all her subjects should be able to watch the event from anywhere in the world.
In her time, she saw nineteen presidents come and go, several wars, and massive upheaval in society, but she was noted for her selfless duty and service to her country and to her subjects. The only lapse in public opinion came when Princess Diana died, and she took her grandsons to Balmoral castle in Scotland to grieve privately rather than publicly which the public took to mean she was being cold and uncaring.
In truth, Queen Elizabeth preferred to remain neutral and polite in politics, but had a razor-sharp insight into how people would behave and how to get along with them. She was also noted for being mischievous (she could mimic many accents, she once took the Prince of Saudi Arabia for a drive in a Land Rover at a time and place where women were not allowed to drive, let alone monarchs, and she appeared to jump out of a helicopter in a James Bond spoof at the 2012 Olympics. It turned out to be a performer, but she must have signed off on it and probably thought it was hilarious) She was also generally well thought of for trying to keep her family life as private as possible and for trying to deal with scandals in house rather than involving the media (such as when Megan Markle accused members of the family of racism).
Queen Elizabeth II came to Prince George at the opening of UNBC to dedicate it in 1994.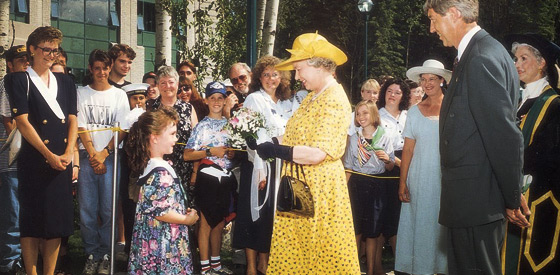 Queen Elizabeth II outlived her husband Prince Philip, but only by about 18 months. The couple had been together for over seventy years, and it had been a love match from the beginning. Although some people said Phillip was arrogant, he and the Elizabeth loved each other, challenged each other, and weathered all manner of storms together until he passed away in April 2021.
Certainly, there is plenty of controversy around the British Monarchy, the role it plays (and has historically played) and will continue to play, but for now, let us remember a woman who dedicated herself wholly to her people, balancing tradition with modernization, good wit and humor with reticence, and common sense with the demands placed upon her.
Rest in Peace Queen Elizabeth II. It is likely we will never see your equal in this lifetime or the next.